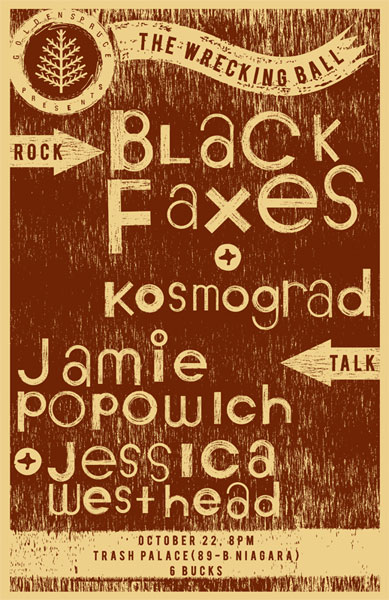 When: 22 Oct 2011 @ 8:00 PM
Where: Trash Palace

How much? $6

This event is All Ages

Bands
Kosmograd have been called progressive, post-metal, post-hardcore, sludge, and post-punk. They are crushing and weird, and play with light and dark textures in their sound, tenderness mixed with violence. They like dinosaurs and outer space.
Black Faxes are heavy, gritty, and nerdy enough to refer to themselves as level 70 orc-mages in their bio (♥). They fuse punk and metal brilliantly, while making capes and wizardry dangerous.
http://blackfaxes.bandcamp.com
Readers
Jessica Westhead's recent collection of short fiction, And Also Sharks (Cormorant Books 2011), knocked everyone's socks off. She writes about mundane, wholesome people in a way that is deeply intimate and unsettling. Sweet mistress of the sucker punch.
Jamie Popowich once wore a terrifying bunny mask to one of Natalie Zed and Eugenia Catroppa's parties. He wore it all night, drinking through a straw, and talking to no one. His newest collection, Metraville (Insomniac Press 2011), is going to be a doozy.